Meet The Director, Nigel Watson.
French Woods Sports and Arts Center
Nigel is originally from New Zealand and is now an American citizen. 36 years ago he saw an advertisement offering "a Summer of a Lifetime" working at a summer camp in America, he applied and has never looked back. He was actually hired by French Woods Festival of the Performing Arts to teach music in 1985. That was his introduction to private camping and he has been involved, at many camps, in many areas, and at many levels, ever since.
Nigel is well known and highly respected in the Private Camp industry. He possesses an unparalleled range of hands-on experience and an unsurpassed level of work, travel, and cultural experience. His management style is smooth and exact and his dedication for enhancing the development and education of children is inspirational. He is an extremely detailed and focused person and is one of the very few Certified Camp Safety Directors in the country, making French Woods Sports and Arts Center a very safe place for your child.
Nigel takes great pride in knowing all campers and staff – not just by name but also their specific interests and abilities. He personally hires every member of staff who works at camp. The hiring criteria is stringent: employees must show dedication to children, a passion for their field of expertise and a willingness to share it. Staff come from all over North America and many other continents.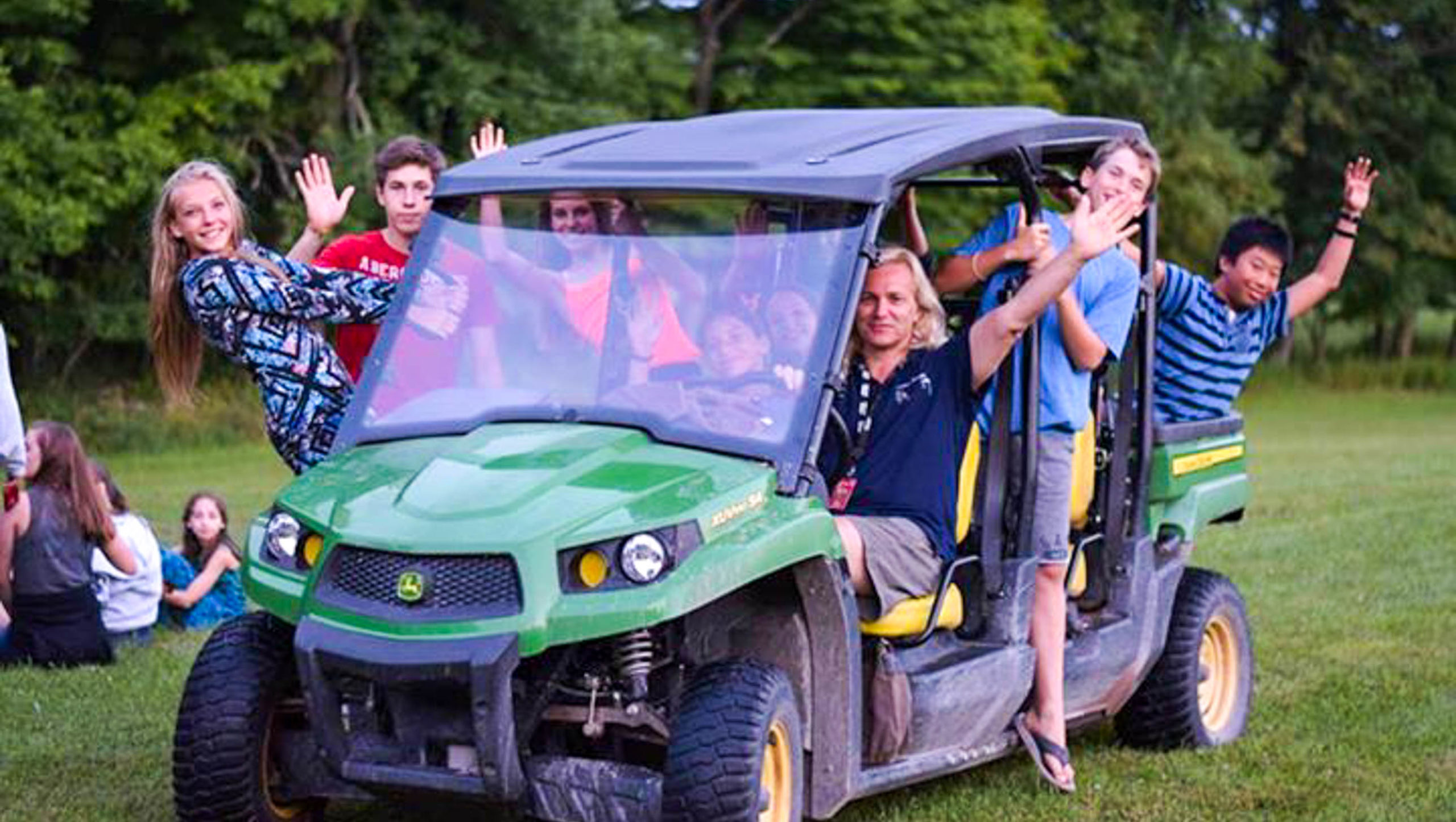 Nigel fully understands what parents and campers are looking for and is able to deliver it. Through a fine balance of unwaveringly high standards, a unique atmosphere of cultural diversity, exceptional logistics, and outstanding teaching standards, campers' development, personal growth and independence will be fostered in every way.
Nigel prides himself on ensuring each and every camper returns home with treasured new memories, feeling good about themselves, having made new friends, improved on existing skills, tried something new, felt a sense of belonging, and wanting to come back again. A combination of Nigel's care and his style of programming nurtures increased confidence, enrichment of self, personal development, giving lasting positive effects which carry far beyond just the summer.
Nigel is happily married to Ruthie, a Scot. They share their busy lives with their two children, two horses, two dogs and a cat. Between them, Nigel and Ruthie have a combined 54 years of private camping and institutional facility management experience, as well as the elite Camp Safety Director's Certificate, A Certified Camp Directors Certificate from the American Camp Association, a Bachelor's Degree in Psychology, a Post Graduate Diploma in Human Resource Management, and a Master's Degree in Elementary Education.
In addition, Nigel sits on the Board of Advisors for Camp America, is an Associate Accreditation Visitor and 3 decade member of The American Camp Association, a member of the New York State Camp Directors Association, New York State Outdoor Education Association, Camp Owners and Directors Association and member of the International Camping Fellowship. With them your child(ren) could not be in better hands.